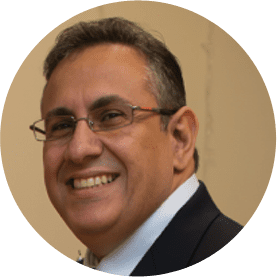 Our Goal is to Have Your Back
I am a husband, father, and small business owner. During the late 90's, I began my career in the Information Technology field. It was in that moment that I had realized that it was a fulfilling industry. In fact, I enjoyed it so much that I went out and became Microsoft Certified. In 2001, I launched Network Computer Pros with one main goal: to have the back of every other small business owner when it came to the world of Information Technology. Since then our knowledge and caring model has helped hundreds of businesses, companies, and organizations throughout Miami-Dade, Broward, and Palm Beach Counties. Unlike other I.T providers, we do not have a salesperson out selling our services. Why, you might ask? Simply because we want to get to know the faces behind the businesses we take care of. We want to know what keeps them up at night when it comes to their I.T., so we can take that stress off their shoulders. Network Computer Pros has assisted businesses in all sorts of industries including construction, accounting (CPA) firms, architectural firms, medical, dental offices and much more.  As a business owner, you will notice happier, more productive employees, because they will know if any problem arises, they can just call the Pros. We take pride in the work we do, and care deeply about our clients. Call me, or click below to setup an in person review of your network. You will be happy you did.
Maurice Israel – Owner
Setup Your In Person Network Review
The service of an in-house IT Support team at a fraction of the cost
The lessons you learn as a small business serve you well, no matter how big you get. We've learned to drive innovation by focusing on cost effectiveness. Those two elements are at the core of the solutions we provide to businesses throughout the greater South Florida community.
Exceeding expectations isn't an exception for us—it's routine. We listen, we learn, and then we build. Your business is able to grow and scale because our custom IT solutions deliver results on time, within budget.
If an issue arises with your network or equipment, we're uniquely positioned to address them without additional costs or unnecessary downtime. That's the Network Computer Pros promise: Seamless IT support services that allows you to focus on doing what you do best for your customers.

Schedule a free consultation and get the IT support your business needs
We're here when you need us.
5240 S. University Drive
Suite 103
Davie, FL 33328
(954) 880-0388